Our technical equipment
We have set up various technical packages, meeting all your needs with:
disco lighting (led and lyres), stage lighting but also architectural lighting (low consumption led light fixture) on variable supports (light bridges, totem poles, etc.)
FBT sound equipment (several sound systems available with variable powers)
additional equipment (video projectors, screen, bubble machines, smoke machines, fog, confetti guns, etc.)
customizable backlit DJ stands, a bright wall, a wide range of light decorations
More information on request: do not hesitate to contact us so that we can propose you the material that will correspond to your event.
When you organize an event, light and sound play an important role in its success. Discover the solutions we offer to make this part of your event a success thanks to our sound and lighting services adapted to your expectations.
Why do lighting and sound systems play an important role in your event?
By organizing your event, you prepare every detail. You can imagine the atmosphere in which you want to make the different participants evolve. You create for them an assembly of moments that will punctuate your event to make it unique and unforgettable. But if the sound system is poor or unsuitable for the place, if the lights do not work well or do not highlight what they should at the right time, all that you had planned will gradually fall apart, like a house of cards. Our goal is to avoid this disappointment by offering you the right equipment, for the right event and at the right price.
How to choose the lighting and sound system for your event?
To choose the lighting and sound system for your event, you will have to ask yourself the right questions. First of all, what is the definition of the place where you want to organize it? Do you want to cover the whole area or only specific areas? Will you organize special moments when you will have to manage different lighting? Do you have a precise idea of the lighting effects you want to set up, the special effects you would like to use?
By defining all of this, you will have a more precise idea of your exact needs. If you need more information about the possibilities of the equipment we offer, do not hesitate to ask us for advice.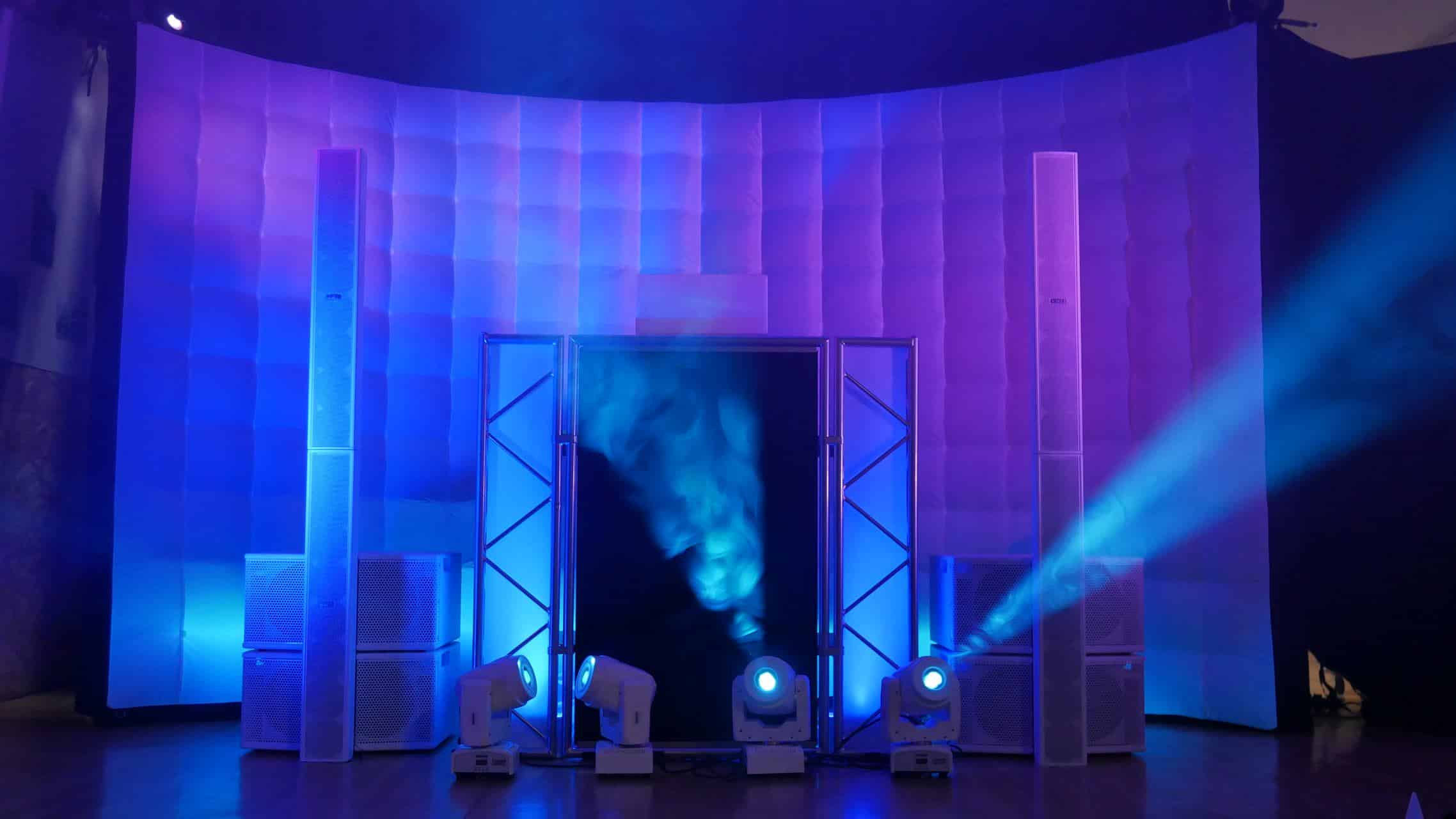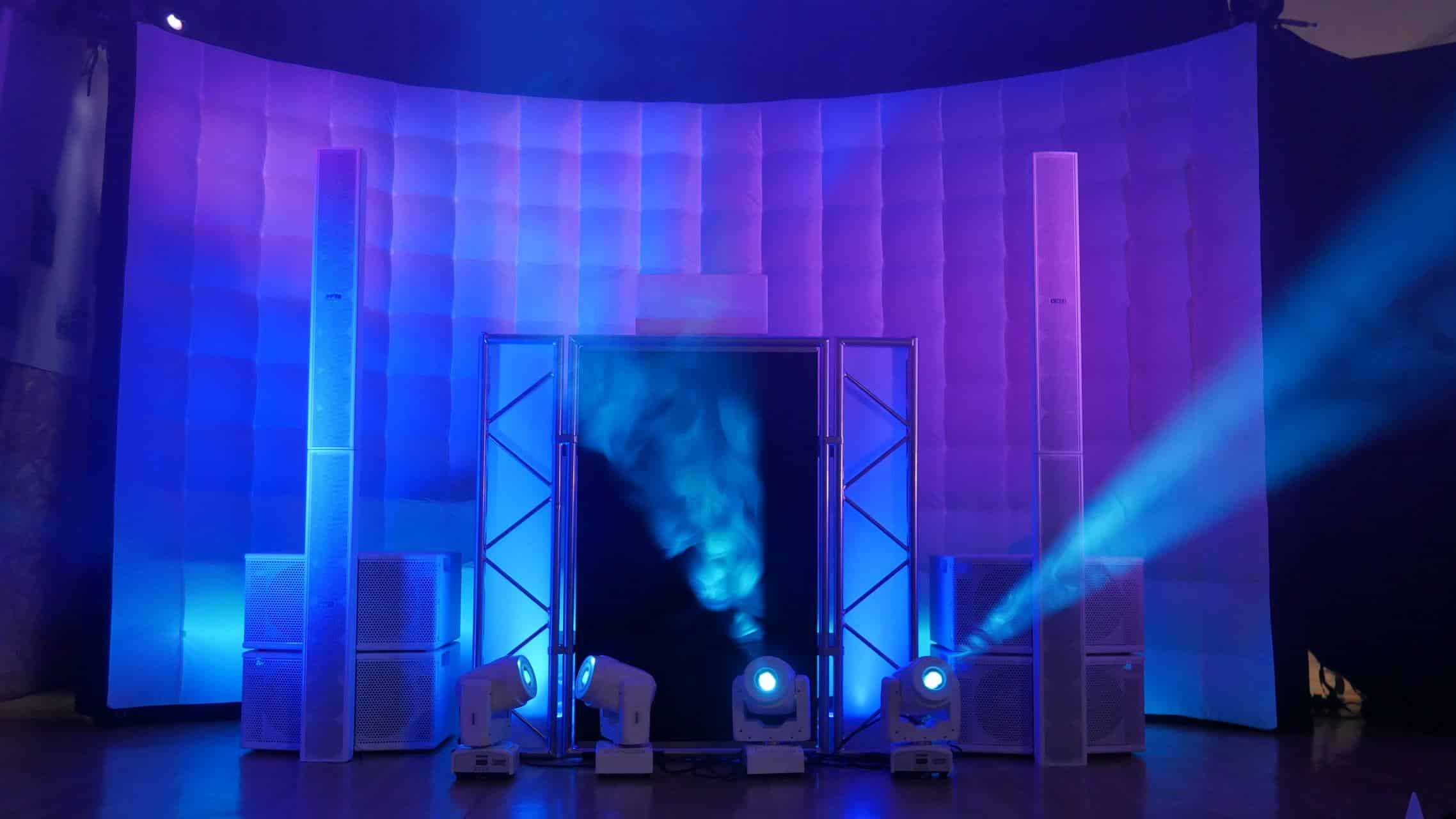 Why choose our lighting and sound services?
Choosing Eklabul's services for your lighting and sound system is a guarantee that you will have the quality equipment that meets your expectations. It also means benefiting from our consulting service, to be accompanied in the creation of the lighting and sound atmospheres you have imagined or to make your ideas even more precise and exceed what you expected. By choosing Eklabul's sound and lighting services, you will be assured of the technical success of your event, as our equipment is reliable and designed to provide you with the best possible results.
Our technical packages for your lighting and sound system
Among our technical packages you can choose LED disco lighting and luminaires, architectural stage lighting with low power consumption and random supports such as totems or light bridges. We offer FBT sound equipment with variable power systems. We also provide you with customizable backlit DJ stands, bright walls and various light decorations.
Among our complementary equipment that will give an extra touch to your event, we offer video projectors and screens, bubble or fog machines but also confetti guns. Each of these elements is designed to bring the atmosphere of your organization as close as possible to what you want to achieve. We are at your disposal to evaluate your needs together and provide you with all the information you may need.