Aerial silk / Aerial hoop / Aerial trapeze
For those who need to organise a personal or professional event and who want to offer a breathtaking and graceful aerial show to their guests… Do not hesitate to call on aerial acrobats who will offer you an exceptional and totally unique animation. Aerial acrobatics is a highly physical technique that can be practiced with a silk, a hoop or a trapeze for an incredible rendering, as if the acrobats flew in the air with lightness and elegance.
Your guests can only be seduced by a high quality aerial show, totally unique and carried out in the most professional way. You can call on Eklabul, an artistic animation agency, to offer you its artists who are experts in aerial circus, in order to best meet all your needs and enable you to enjoy high quality services at the best price. Each one of our acts and aerial shows are worked during a long period in order to offer you perfection in the air.
Prowesses in the air with our aerial acrobats
Whether they work solo, in duo or even in team… Whether it is on an aerial silk, trapeze, hoop or other less conventional apparatuses… At 2 or 10m from the ground, aerial acrobats are undoubtedly the masters of the air and will impress their audience! Combining visual lightness and physical power, their performances are simply fabulous!
Our team is composed of many artists who can work together or solo.
We have free standing aerial frames (tripod aerial frames for a single apparatus, or "quadripods" for several simultaneous apparatus) that can be installed anywhere: their height can go from 4 to 7m high, and they do not require any anchorage to the ground.
Discover our aerobatics acts!
Aerial silk: a graceful technique in the air
Famous for its elegance, the aerial silk dance is an amazing technique of aerial acrobatics. Acrobats rise at several metres from the ground and wrap themselves in smooth and colourful silks to offer you a mesmerizing air show. These aerial silks are very strong to ensure the safety of the professionals and to support their weight ; they can thus let their imagination run wild and create steps of dances and acrobatics that will take your breath away.
During your event, the aerial silk will captivate your audience because youngers and elders cannot remain insensitive to all of these physical prowesses and to the refinement that comes out of it. In solo or in group, the aerial show is really worth it and you will see that you will win all the successes after this type of performance.
Here are some examples of solos, duets or trios of aerial silk presented by Eklabul.
Aerial hoop: a solo or duo aerial ballet
Another technique of aerial ballet: the aerial hoop will offer you aerial shows filled with grace and elegance at several meters from the ground. Also known as "lyra", the aerial hoop is one of the most sensual and aesthetic apparatus. Professional acrobats use hoops of different sizes to perform beautiful dances during which their flexibility is highlighted. It is often women who use this hoop technique by performing acrobatics in the air or on the ground.
Indeed, the aerial hoop can be mainly practiced in 2 ways: either in a "classical" mode, which means at a height (on average 3m from the ground), or in a "hoop-dance" mode. The hoop-dance is practiced at variable heights during the act: the artist performs alternatively on the ground, in rotation and in the air. Therefore the hoop goes up and down (lifted either by a hoist or by a system of ropes/pulleys).
To bring grace and delicacy to all of your events, you can opt for this type of aerial show because you will never be disappointed by such professionalism and beauty. Your guests will literally be captivated by these delicate aerial ballets. They will have eyes only for these magnificent acrobats moving with sensuality around and inside their hoops to impress them. This technique is very physical but the result is really worth it.
Air trapeze: for breathtaking air shows
Other techniques are used by aerial acrobats to offer you always more breathtaking shows. The air trapeze is another discipline to propose to your guests. The aerial trapeze acrobats will offer you a show in which there will be no lack of physical prowesses. Circus enthusiasts will not be able to remain insensitive to the charm of this traditional circus discipline.
Trapeze acts can be offered in several formats:
In fixed trapeze: the artist then creates a series of figures at great height.
In trapeze dance: as in hoop, the artist evolves in rotation at variable heights.
In duet: the double trapeze is a discipline proposed by a carrier and an acrobat who will perform take-offs, releases and other acrobatic figures in duet.
But other disciplines can be proposed on a trapeze, as swaying trapeze, flying trapeze and many other prowesses related to this emblematic apparatus…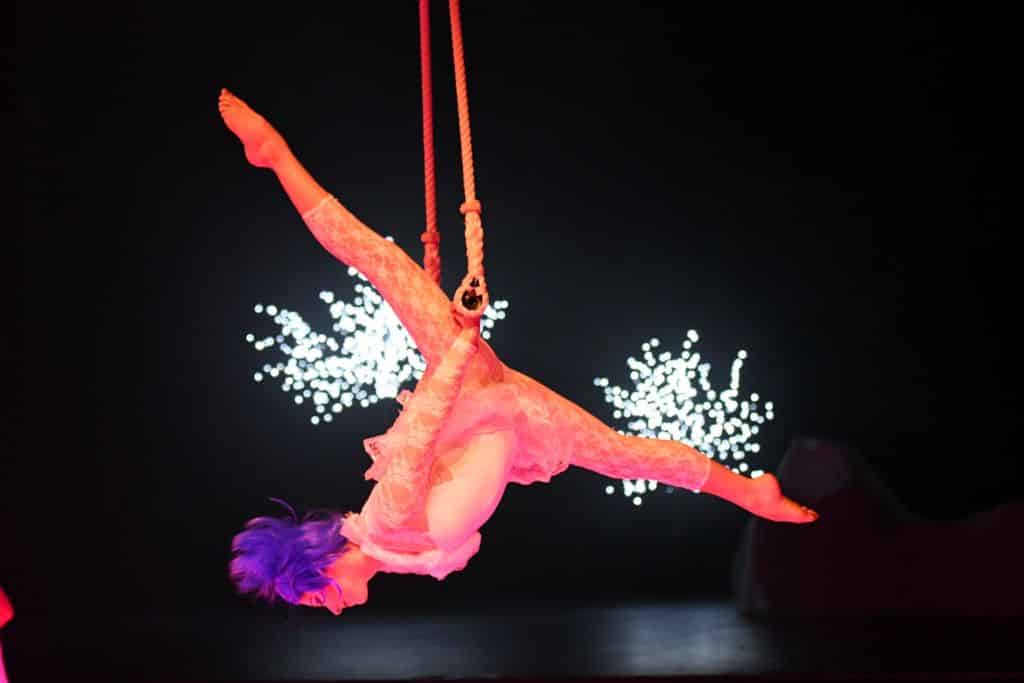 Hammock and Aerial net
The aerial hammock and the aerial net are quite recent disciplines. This time the apparatus is attached to both ends and the artist works in the loop formed by the net or the hammock's fabric. The possibilities are varied and interesting!
Ropes and straps
Among the different aerial acrobatic techniques, it is also possible to mention straps and ropes.
The smooth rope, which is practiced almost as aerial silks with locks and falls, all accompanied by strength prowesses.
The Spanish rope, where the acrobat is spun by a partner on the ground and performs rotating tricks at an incredible speed.
The aerial straps, that can be practiced in fixed or in "flight", that is, the acrobat turns in the room. This discipline requires an aerial hoist and a lot of space. The straps are used solo or in duet. With aerial straps, acrobats can fly safely through the room to offer you an amazing show. You will have the impression of seeing angels invading the room while performing ballets filled with grace and refinement. The eyes will be riveted in height and will be filled with wonder and enchantment.
Aerial anchor
A tailor-made act for a sea-themed evening!!
In solo or in duo, our artists will evolve at several meters from the ground on a real aerial anchor…
Custom-built to allow the artists to combine the figures proposed in trapeze and hoop, this apparatus of nearly 2 meters in height will be the emblem of your evenings on the French Riviera.
A multitude of artistic possibilities offered by our aerial acrobats
If you want to make your wedding an event that no one will forget or to seduce your collaborators and customers during a private evening, aerial acrobatics is the attraction you must choose to impress them! Our aerial acrobats will make the show to let your guests live an amazing experience. No one can remain insensitive to such grace and beauty.
Don't hesitate to contact us to create the surprise effect you were looking for. You will be able to talk with professionals who will be happy to answer all of your questions and help you set up your project. You will never be disappointed by our aerial performances.